Joe Dunn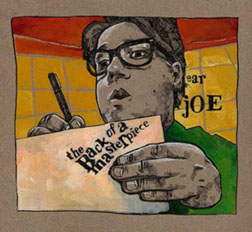 Joe rules. At least that's what he tells people. Joe Dunn, one half of the Digital Pimp team is a graduate of Parsons School of Design at the New School in New York City. He currently lives in Queens with his beautiful girlfriend.
Along with his comic book work here at Digital Pimp Online, Joe is also the artist of Mitch Clem's The Coffee Achievers.
Joe is always looking for feedback of his work. "Love it or hate it I need to know. It's the only way to get better".
So if you?re so inclined you can reach Joe directly here.

pimptour
@pimptour
RT
@SD_Comic_Con
: Do you feel the Call of the Cute-thulhu? Then you're going to want to grab these
@pimptour
#SDCC
exclusives: https://t.co...
05 Jul 2019
Follow @pimptour
Joe Dunn
@joedunn721
@blast0rama
Oh my god yes. 8 feet tall. Rock-sized canvas!
15 Jul 2019
Follow @joedunn721

Irv Fabor
@irvfabor
15 Jul 2019
Follow @irvfabor
Kevin Gleason
@retail_rage
RT
@MitchGerads
: As someone who loves America and the ideals and freedoms it was founded on, I'm having a very real struggle celebrating it...
04 Jul 2019
Follow @retail_rage